Page
Activity 2. Wards and Departments in a Hospital
Volver al Índice de Prácticas
Exercises
1. Answer the following questions in full form and paying special attention to the use of prepositions:
1. 

Where can a mother go to visit her premature baby?

2. 

Where do ambulances take victims of road accidents?

3. 

Where can you go to donate blood?

4. 

Where do doctors check your eyes?

5. 

If a mother with a sick child comes to the hospital, where does she have to go?

6. 

Where do you ring to order a patient's medications?

7. 

Where do patients usually go if they have a heart attack?

8. 

Where do you take an urgent specimen of urine for microscopic examination?

9. 

Where can a person find a dermatologist to look at his or her moles?

10.

Where do patients fill their paperwork when coming to the hospital?
Brief note on the use of prepositions:
We use different expressions depending on the situation:
      -We go to a ward or department
      -We work in a ward, but at the hospital
      -We take/send a patient to a department/theatre but he is in the ward, hospital or theatre.
2. Add the following wards or departments to the diagram below.
Medical Wards   The Post-natal Ward and Neonatal Unit      The Radiology Department
The Operating Theatres Central Sterilizing Department Intensive Care Unit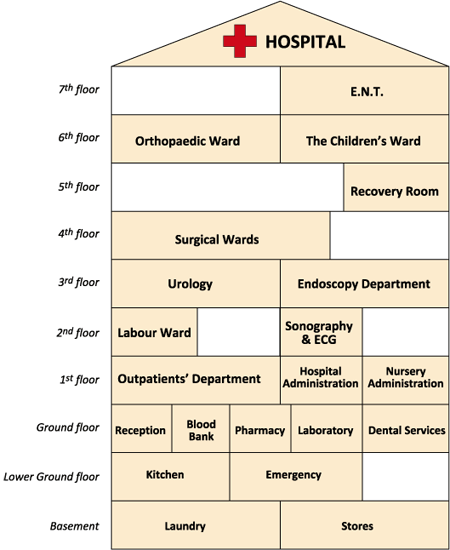 Now ask your partner a few questions about the location of the different departments and then do a role reversal. 
3. Where would you find the following in a hospital?

a) people moving between rooms and departments

c) someone undergoing an operation

 
Last modified: Tuesday, 13 June 2017, 9:50 AM